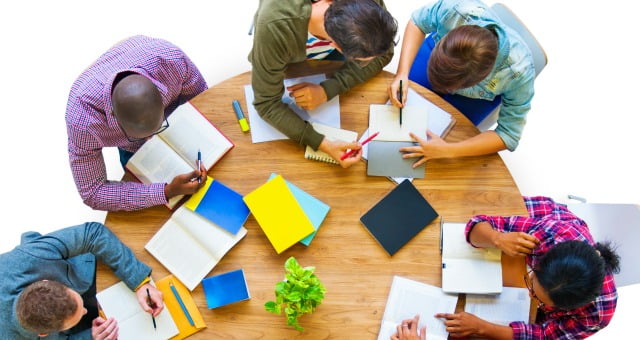 What is Cooperativeness?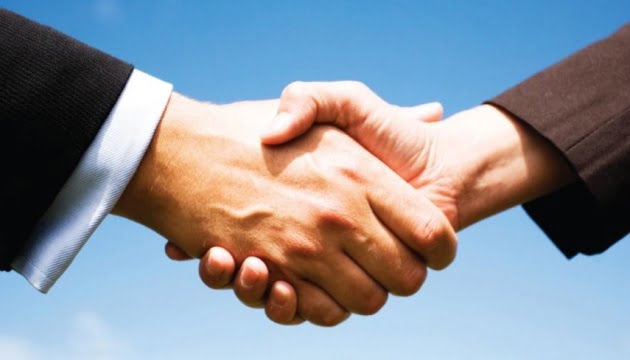 Cooperativeness is a personal quality of a person that determines the degree of his/her agreeability with others.
A person who agrees to others more or adapts to the circumstances is more cooperative.
Definition of
Cooperative Learning
Cooperative Learning can be defined in this way: –
"Cooperative Learning is a structured method of combining classroom-based education with practical work experience"
A cooperative education experience, commonly known as a "co-op", prepares students with academic skills necessary for structured job experience.
This process commonly involves splitting the students into small groups so, they can discover a new concept by working together and help each other learn.
Cooperative Education elevates the level of learning from a boring procedure to a fun activity in which everyone works autonomously on their own but are dependent on each other for some tasks for which they have to show cooperativeness…
Why
Cooperativeness
is necessary?
We can witness cooperativeness in every part of our lives. Everyone person is dependent on the other for the sake of some benefits which are vital for its survival.
In a Society, Cooperativeness plays a vital role in its survival. How a society evolves or progresses is largely based on the cooperativeness of its members.
Without the cooperation of its constituents, a society cannot survive, and the reason how the society of man has survived lies in the cooperativeness of its members which has made survival possible and life easy.
Those who are most feasible to survive are those who are best enabled to do so by working in their groups.
In Education, How students interact with each other is generally a neglected aspect of instruction.
To fulfill this aspect of learning, Cooperative learning has been developed.
Benefits of
Cooperative learning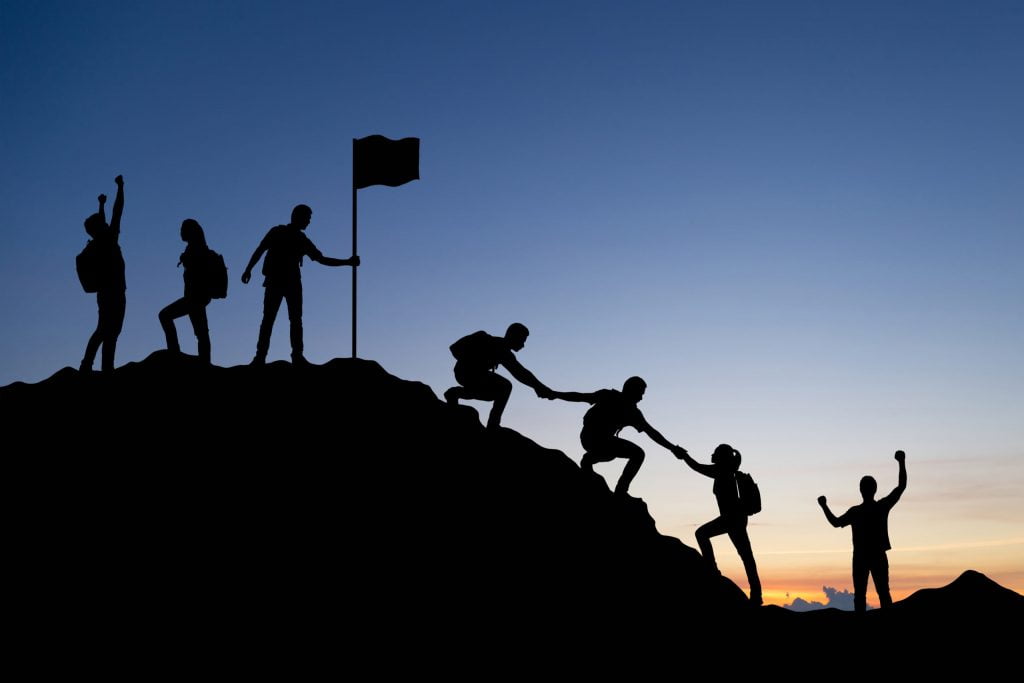 Encourages achievement
When a person works in a group, he is more likely to put more effort than he is working alone because, in a group, there is a competition which encourages him more about achieving his goal.
He works harder to fulfill the requirements and puts more effort into the fulfillment of the goals.
Active learning
Cooperative Education has always activated the learning process more than ever before because everyone is working in a group.
Group work requires activeness and agility as everyone is responsible for his own contribution and if one of the members shows laziness, it is crucial for all the members.
Development of new skills
New skills develop when you are confronted with new situations and more persons bring more situations which individuals take as a challenge and develop themselves
Human nature is adaptive which adapts according to every situation and when it faces new challenges it adapts and develops the necessary skills to deal with them.
Develop skills necessary to be a "team player"
Most businesses create teams and everyone has to work in teams. No matter, what type of job or business, he is involved in.
So, it is necessary for everyone to have the skills which will be needed in the future for working in the team.
This type of education develops those skills in you which you are definitely going to need in your professional life.
Positive interdependence
Besides creating different types of skills in the individuals it also promotes positive interdependence among the individuals.
Positive interdependence is very significant for society as it is the basic quality of society that makes the society an alive and happy place to live.
Every person is dependent on the other for some need and if the dependence is fulfilled in a positive way then it will create liveliness in that society.
Face-to-face promotive interaction
People learning in a group have face-to-face interaction with each other which creates a sense of friendliness, supportiveness, and cooperativeness among them
Individual and group accountability
In a group work, you have two kinds of responsibilities i.e. Self and group
You have to perform well by yourself as well as in the group which is a very good aspect of it and makes the individual responsible for his future responsibilities.
Social skills
Social skills are also developed as despite learning the main things you are also learning to live in a society.
Theories for
Cooperative Learning
Cooperative learning is largely based on two theories:
1.Structure-Process-Outcome theory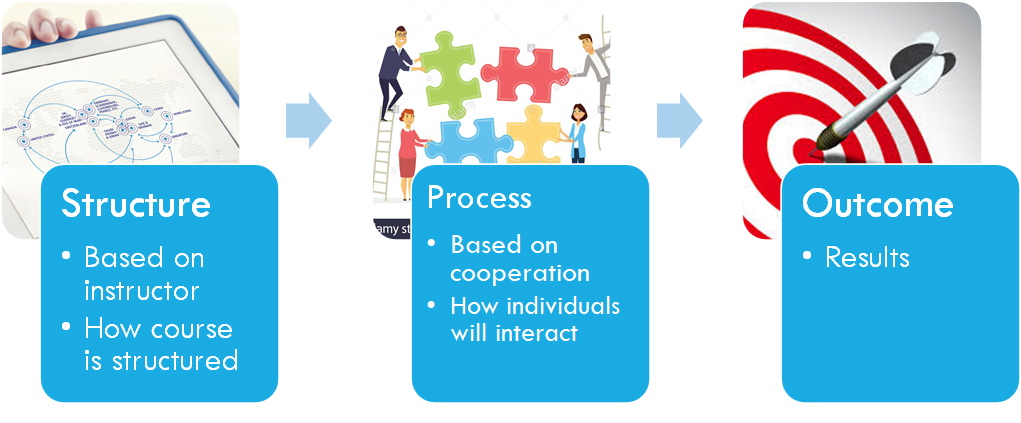 According to this theory, " The levels of having an education are interconnected and they have to be perfect from the very first step"
It starts from structuring the course which is the responsibility of the instructor i.e. how they are structuring the course which is eventually going to affect the processes through which students are going to have it.
In turn, the processes take place which then determines the outcome of the process.
So, for an effective learning phenomenon, you first have to structure it very efficiently which will affect the processes, and ultimately you will get the most efficient outcomes.
2.Social Interdependence theory.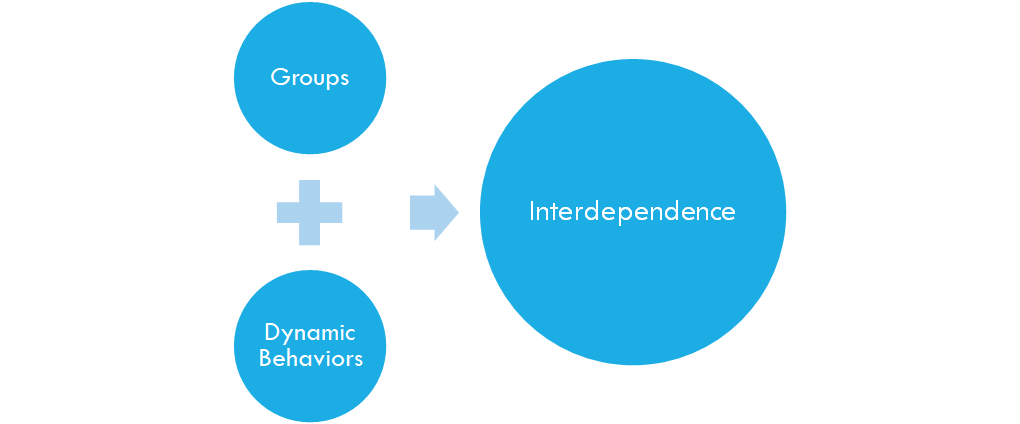 This theory represent the core values of a group work
According to this theory, " When different personals are working in groups with different dynamic behaviors, they have to depend on each other for many things.
As everyone is master of different things and performs his own tasks more efficiently and is dependent on the other individuals of the group for many other works.
So, if this interdependence will be positive then you will have far more beneficial results instead of negative.
Types of
Cooperative Learning
Groups
There can be a lot of groups that can be created for your own compatibility but the most often used groups for cooperative learning are as follows:
Informal
Formal
Long term Cooperative Groups
Informal Groups
These are mostly short period groups which are usually used as an Aid to Direct Teaching method or to create variation in the routine by assigning instantaneous tasks to these groups.
They may last for a Lecture or just a segment of the lecture.
Formal Groups
These are also short term groups but lasts more than informal groups
Groups are made for a particular task or assignment which may last several lectures or some weeks.
Long term Cooperative Groups
These groups are long-term as portrayed by the name. The groups of the students are made at the start of the course which lasts usually until the course is completed.
These groups may last a semester or a year but not less than a semester.
THANK YOU!